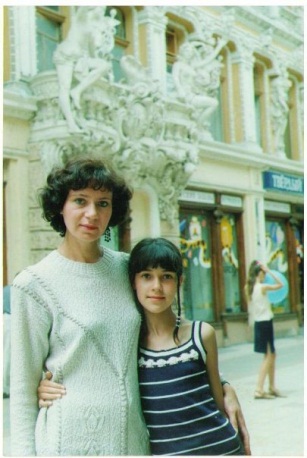 Mariia Dytyniuk
was born on September 9, 1989 in Aleksandriya. Her mother created an atmosphere of harmony and creativity in the family, and acquainted little Mariia with the marvelous world of images and colors.
Usenko Tatiana Grigorievna devoted 25 years to the work in the Artistic school as an art and modeling teacher.
Dad, Usenko Konstantin Fedorovich, is a tower of strength for the whole family.
The first Mariia's hobbies were dancing and painting, but at the age of 9 she firmly resolved that visual art is her vocation.
Later she graduated magna cum laude from the Artistic school of Aleksandriya, then she had been taking lessons in drawing for 2 years. Her teacher Ohapkin Alexander Igorevich, a famous artist, became a creative leader and role model for her.
In 2005 Mariia entered the art-graphic department of Kirovograd Pedagogical Institute. There she took an active part in student and personal exhibitions of Aleksandriya and Krivoyi Roh.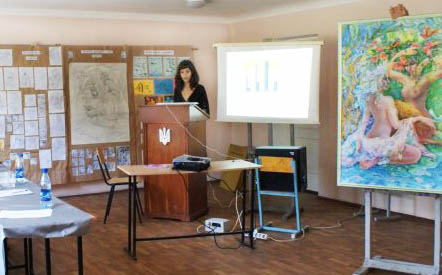 At this time Mariia took a great interest in batik. Teachers, who saw and really believe her talent, were Baliuk Larisa Viktorovna and Udovenko Alexander Leonidovich. After 5-year studying Dytyniuk Mariia graduated from the university and was awarded a master's degree in teaching art.

Mariia returned to her native town Aleksandriya but she could not find any occupational work for a long time.
-"Whatever is done, is done for the best" – it is the main credo in my life, - the artist says, - who knows, it could become the beginning of new a period of my life.
Mariia's beloved, Denys, suggested participating in the Main Talent Show of Ukraine. But how and what kind of show will she perform? Here she recollected physical properties of different substances (which are used in batik), she thoroughly studied when she wrote a Master's thesis. She'd come up with an idea to show viewers not only the final result, but the process of painting on cloth. There was little time to prepare a bright performance. Mariia mastered speed painting on the back side of canvas within days and thereby created her original technique – "The Birth of a Picture".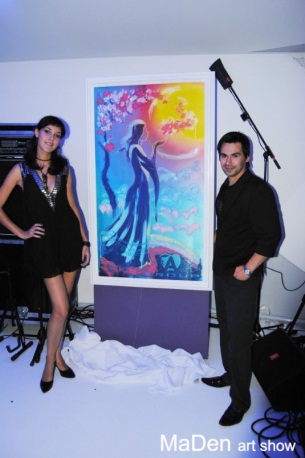 So she appeared before the footlights in "Ukraine's got talent - 3" and got three "yes" from the jury. But her way in the show was over and a new stage of her creative development began.
At present Mariia Dytyniuk works in a creative trio with her beloved husband Denys Dytyniuk and sister Yelyzaveta Mykhaylova. They develop a genre of speed painting: find new techniques and improve their brushwork. "MaDenart" team makes viewers glad and surprised to look at their new works of art.
Besides performance Mariia paints pictures, works in different techniques, deviates from academism and seeks to find her personal style. She puts her whole soul into the pictures, tries to describe her emotions, feelings and mood. Firmness of purpose, harmony in her inner life and colors on canvas are the most important things in her life.